Jing is a helpful and trusted tool that allows you to capture, annotate and share screenshots from your desktop. 
Since a picture is worth a thousand words, we recommend that all our customers use this tool to easily share screenshots so our support team can identify and address issues more quickly.
Download
https://www.techsmith.com/jing.html

Click the link above, then click the Free Download button at the top right. Follow the provided instructions to get Jing installed on your machine.
Using Jing
By default, Jing places the "Sun" at the top of your screen that will expand to show some options if you hover your mouse over it.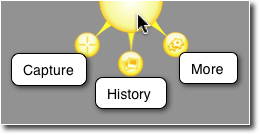 You can click the Capture button to bring up the crosshairs that will allow you to select an area on your screen you want to capture. Click and drag to create the area.
After you've selected the area you want to capture, click the Capture button. This will bring up the annotation menu. This is where you can add text and arrows to point out important parts of the image. 
Sharing Screenshots
After you've captured and annotated your image, you can either save the image to your computer or copy it to your computer's clipboard. 
If you're sharing the screenshot in an email or creating a ticket on FreshDesk, the simplest option is to copy the image and then, inside your email message, press Ctrl + V or  right click and choose Paste.
If you saved the image instead, you can also upload the image as an attachment to the email or ticket.
Configuring Jing
The simplest and most common way to configure Jing is so the Print Screen button on your keyboard will bring up capture area cross-hairs. To do this, Click the gears icon on the right to bring up your preferences.

(That's a More ray)
Click inside the Capture Hotkey area and press the Print Screen button after the prompt says "Press desired key(s)" (note: you can use key combinations such as Ctrl + PrtScn for the hotkey if you want)